Concert de Garland Jeffreys au Divan du Monde : "Matador" et "Hail Hail Rock N Roll"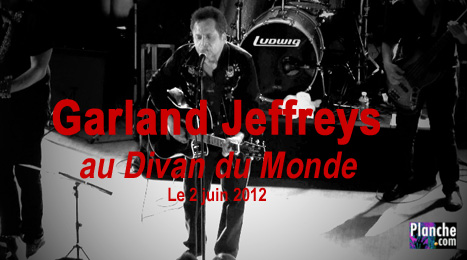 "Matador", le 2 Juin 2012

"Hail Hail Rock N Roll"n le 2 Juin 2012


New Album : http;//www.GarlandJeffreys.com
Garland Jeffreys (born 1943, Brooklyn, New York) is a part African-American, and Puerto Rican American, singer and songwriter, transversing the musical genres of rock and roll, reggae, blues and soul.
Career
Jeffreys is from Sheepshead Bay, Brooklyn. He majored in art history at Syracuse University where he met Lou Reed, before The Velvet Underground became active.
In 1966, Jeffreys began to play in Manhattan nightclubs including Gerde's Folk City, The Bitter End, Gaslight, Kenny's Castaways, and later Reno Sweeney, where he began to explore racially conscious themes in his work, sometimes utilizing blackface masks and a rag doll named Ramon in performance. Jeffreys played guitar on John Cale's 1969 debut solo album Vintage Violence and contributed the song "Fairweather Friend". In 1969 he founded Grinder's Switch with Woodstock-area musicians including pianist Stan Szelest, guitarist Ernie Corallo, and percussionist Sandy Konikoff. Lew Merenstein produced this one album before the band dissolved in 1970.
In 1973, he released his first solo album, Garland Jeffreys, on Atlantic Records. Around the same time Atlantic also released a single, "Wild in the Streets", that was not included on the album. Jeffreys wrote the song after hearing about a pre-teen rape and murder in the Bronx. Dr. John played clavinet and helped arrange the song, with backing from guitarist David Spinozza, drummer Rick Marotta, the Brecker Brothers on horns and David Peel on background vocals. The track received airplay on the progressive FM album-oriented rock stations, and has become one of his best-known songs.
"Wild in the Streets" has become something of an unofficial anthem for the skate community and been covered by several musicians, including:
The Circle Jerks, on their album Wild in the Streets
Chris Spedding, on the album Hurt
British Lions, on their album British Lions
Hot Water Music, on the album Til the Wheels Fall Off
Hurriganes, on Fortissimo
In 1977 Garland recorded his Ghost Writer album for A&M Records, with "Wild in the Streets" included on side two. All the tracks are autobiographical, encompassing bittersweet tales about coming of age as an artist in the big city ("Ghost Writer"), of racial separatism ("Why-O"), of interracial romance ("I May Not Be Your Kind"), and of overcoming conflict at home ("Cool Down Boy").[citation needed]
The next years saw a string of albums, five within five years, and the release of the perennial European radio favorite "Matador" which charted in the top five of a number of countries.[2] This burst of productivity culminated with the criminally underrated Guts for Love, a meditation on the challenges of monogamy and fidelity. After a long hiatus, much of it spend woodshedding, reading and researching, Jeffreys released Don't Call Me Buckwheat, devoted to the complexities of race in America. The title was triggered by an incident at Shea Stadium where Jeffreys was enjoying the game and feeling carefree. He stood to go get a hotdog when a voice shouted "Hey buckwheat, sit down!" The casual epithet was a jolt and it spurred a number of memorable songs including "Don't Call Me Buckwheat, " "I Was Afraid of Malcolm," "Racial Repertoire." In February 1992, Jeffreys' recording of "Hail Hail Rock 'n' Roll" (RCA PB49171), spent one week at #72 in the UK Singles Chart.[3]
Jeffreys was featured in the 2003 documentary The Soul of a Man, directed by Wim Wenders as the fourth installment of the documentary film series The Blues produced by Martin Scorsese. The film explored the musical careers of blues musicians Skip James, Blind Willie Johnson and J. B. Lenoir. Jeffreys was also featured on the cover of Beyond Race Magazine in February 2007. "Wild in the Streets" can be heard in the 2012 video game Max Payne 3.
On May 28, 2012, at the Pinkpop Festival in Landgraaf, Holland, Jeffreys joined Bruce Springsteen and The E Street Band onstage for a performance of ? and the Mysterians' 1966 hit "96 Tears", which Jeffreys had covered on his 1980 album "Escape Artist".
Discography
Solo
1969: Grinder's Switch featuring Garland Jeffreys
1973: Garland Jeffreys
1977: Ghost Writer
1978: One-Eyed Jack
1979: American Boy & Girl
1980: Escape Artist
1982: Rock 'n' Roll Adult
1983: Guts for Love
1992: Don't Call Me Buckwheat
1992: Matador & More…
1997: Wildlife Dictionary (only released in Europe)
2007: I'm Alive (only released in Europe)
2011: The King of In Between [4]
"Matador", le 2 Juin 2012

"Hail Hail Rock N Roll le 2 Juin 2012


Nouvel album sorti le 29 Mai 2012
http://itunes.apple.com/fr/album/the-king-of-in-between/id510628219
http://garlandjeffreys.com/
Garland Jeffreys, né le 1er janvier 1944 à Brooklyn, quartier de New York, est un auteur-compositeur-interprète et musicien afro-américain.
Garland Jeffreys est diplômé de l'école des arts de l'université de Syracuse où il rencontre Lou Reed avant la formation du Velvet Underground. En 1966, il joue dans des boîtes de nuit de Manhattan. Grinder's Switch, le groupe qu'il fonde en 1969, sort un album unique avant la séparation de ses membres en 1970. Garland Jeffreys enregistre son premier album solo, Garland Jeffreys chez Atlantic Records en 1973.
Une chanson appelée Wild in the Streets qui n'était pas incluse sur le LP est saluée par les stations radios alternatives et devient un de ses titres les plus connus. En 1977 cette version de Wild In The Streets, sortie uniquement en 45 tours jusqu'alors, est reprise sur la face 2 de l'album Ghost Writer que Garland Jeffreys enregistre pour A&M Records.
Il accède véritablement à la reconnaissance en 1979 avec l'album « American Boy & Girl » et le titre « Matador » suite à son passage dans l'émission Chorus (émission) d'Antoine de Caunes.
Depuis plus de quarante ans, Garland Jeffreys a accompagné, outre son meilleur ami Lou Reed, les plus grands musiciens comme John Cale, Sonny Rollins, Paul Simon et Bob Dylan avec qui il fraternise.
Il s'inspire de son ami Bob Marley pour de nombreuses compositions comme Color Line et Welcome to the World. «On s'est immédiatement entendus. Il s'amusait à me vanner en patois créole. On ne s'est jamais vraiment quittés».( L'express, 22 juin 2006).
Il côtoie par la suite le dub poète Linton Kwesi Johnson à Londres ou Bruce Springsteen qu'il rejoint sur la scène de Bercy pour entonner « Buffalo Gals ».
Garland Jeffreys reste peu médiatisé alors qu'il a traversé tous les genres musicaux du Reggae en passant par la Soul, la Pop, le Blues et le Funk. Il est présent dans The Soul of a Man, le film documentaire américain réalisé par Wim Wenders en 2004 dans la série Le Blues, produite par Martin Scorsese.

Wild In The Streets a été repris par plusieurs artistes comme The Circle Jerks, Chris Spedding ou les British Lions, tout comme « Hail, hail Rock'n'Roll », un hommage à Frankie Lymon, aussi connu que l'album eponyme de Chuck Berry.
The Observer saluera la sortie de son album Don't Call Me Buckwheat comme un questionnement sur le thème du racisme ( Spencer, Neil: "Garland Jeffreys: Don't Call Me Buckwheat", The Observer, 15. Dezember 1991, S. 47.) où il interpelle sur la violence verbale et la condition des noirs. (Buckwheat signifie sarrasin, terme utilisé pour désigner les negroes )
À l'instar de Patti Smith, sa musique fait partie intégrante de la ville de New York qu'il célèbre dans « New York Skyline ».
Discographie
2011: The King of In Between
2006: I'm Alive (Compilation)
1997: Wildlife Dictionary
1992: Matador & More…
1991: Don't Call Me Buckwheat
1983: Guts for Love
1982: Rock 'n' Roll Adult
1980: Escape Artist
1979: American Boy & Girl
1978: One-Eyed Jack
1977: Ghost Writer
1973: Garland Jeffreys
1969: Grinder's Switch Featuring Garland Jeffreys
"Matador", le 2 Juin 2012

"Hail Hail Rock N Roll"n le 2 Juin 2012


http://garlandjeffreys.com/
Garland Jeffreys ( Januar 1944 in Brooklyn, New York) ist ein US-amerikanischer Poprocksänger, der stilistisch genreübergreifend zwischen Ska, Reggae, Soul, Funk oder Rock[1] aufgestellt arbeitet. Bekannt wurde er international vor allem durch die Single Matador, die 1980 in vielen europäischen Ländern ein großer Hit war, beispielsweise in Deutschland für sieben Wochen Platz der Verkaufscharts belegte. Ein weiterer Top-20-Hit gelang ihm erst 12 Jahre später, als er mit der Single Hail Hail Rock'n'Roll Platz 12 der deutschen Charts erreichte.
Leben und Wirken
Jeffreys, der ethnische Vorfahren von Afroamerikanern, Puerto Ricanern, Weißen und Cherokees hat, wuchs in einer Arbeiterfamilie auf. Einer seiner Großväter war Kellner, sein Vater arbeitete als Pförtner. Er studierte Kunst an der Syracuse University, wo er mit Lou Reed vor dessen Zeit bei Velvet Underground bekannt wurde. Nach Abschluss dort, führte er kurzzeitig sein Kunststudium in Italien fort, dann, zurück in Manhattan, weiter am 'New York's Institute of Arts'.
Jeffreys gilt als "musician's musician" – als Musiker, der zwar wenig große kommerzielle Erfolge verzeichnen konnte, aber große Anerkennung unter Musikerkollegen genießt. Zu den Musikern, die mit ihm Platten aufgenommen haben oder aufgetreten sind, gehören Lou Reed, Bruce Springsteen, Dr. John und John Cale. Er ist auch in Wim Wenders' Blues-Dokumentarfilm The Soul of a Man zu sehen.
Er spielte in mehreren Bands (u. a. 'Train' und 'Romeo') und nahm 1969 mit der Formation 'Grinder's Switch' ein Album auf. Die Band löste sich 1970 auf und Jeffreys begann seine Karriere als Solo-Künstler. Seine aktivste Phase waren die späten 1970er und frühen 1980er. Seit den 1990ern hat er nur noch sporadisch Platten veröffentlicht.
Verheiratet ist der Singer-Songschreiber seit 1971. Der gemeinsamen Tochter geschuldet ist sein bis zum Comeback 2011 mit The King Of In Between rund 15-jähriges Herausziehen aus dem Konzert- und Tonträger-Markt zugunsten des Familienlebens.[2]
In den USA war Jeffreys weniger als international erfolgreich in den Charts. Dort konnte er nur eine Coverversion in den Charts platzieren. Die Single 96 Tears erreichte 1981 Platz 66 der amerikanischen Charts. Sein bestplatziertes Album war dort Escape Artist (1981 Platz 59). Zu seinen bekannteren Stücken gehört in den USA auch der Song Wild in the Streets (1975), der Mitte der 1970er Jahre von zahlreichen Radiosendern gespielt und mehrfach in Coverversionen aufgenommen wurde. Weitere vielgespielte Radio-Hits waren I May Not Be Your Kind, Cool Down Boy und Spanish Town, die unter anderem durch kritisch-einfühlsame Songtexte überzeugten.[2]
In seinen Texten des Albums Guts for Love von 1983 untersuchte er die Schwierigkeiten von Stadtbewohnern, langjährig intakte Beziehungen zu finden und aufrechtzuerhalten.[1] The Observer beobachtete, dass sein 1991er Album Don't Call Me Buckwheat in bürgerrechtlichem Hinblick Fragen des Rassismus thematisierte.[3] Auf seinem Comeback-Album von 2012, The King Of In Between, sind eigene Songs über Armut, das Älterwerden oder das ganz normale Leben in New York City enthalten.[1]
Ebenfalls 2011 veröffentlichte er als Gaststar mit den "Black Roots"-Musikern der Band The Ebony Hillbillies den Bob Dylan-Song Buckets of Rain, der an Dylans Geburtstag erschien und viel Airplay in den Radios bekam.[2] Das 2012 auch in Deutschland herausgekommene Album The King Of In Between wurde vom Deutschlandradio Kultur in der 19. Kalenderwoche zur "Pop-CD der Woche" gekürt.
Diskografie
1969: Grinder's Switch featuring Garland Jeffreys
1973: Garland Jeffreys
1977: Ghost Writer
1978: One Eyed Jack
1979: American Boy & Girl
1980: Escape Artist
1982: Rock 'n' Roll Adult
1983: Guts for Love
1992: Don't Call Me Buckwheat
1992: Matador & More…
1997: Wildlife Dictionary (nur in Europa veröffentlicht)
2002: Wild in the Streets (Best Of)
2006: I'm Alive
2011: The King Of In Between (Big Lake Music Records)