Le New Morning 2015 de 3 Rockeurs bretons : The Crashmen New Morning 2015 3 Rockers: The Crashmen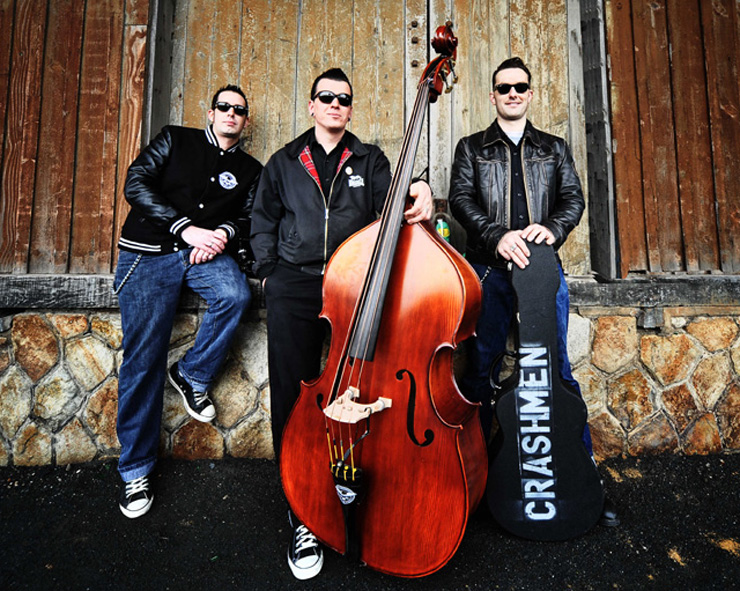 THE CRASHMEN
Paris, le 16 janvier 2015
JB, Gui et Jim ont le look fifties, aiment  les voitures américaines, les pinups, le Rockabilly mais surtout le Rock N Roll.
Arrivés en voiture de Bretagne pour jouer  au New Morning, invités par Tony Marlow JB, Jim et Gui vont répondre à mes questions.
J'ai choisi un bar non loin du club pour être au chaud et boire un verre. Les trois garçons se présentent :  coiffure impeccable,  blousons tout comme il faut et jean retroussés.  Leur look est chic et ils sont taillés comme des athlètes

Le mélange est génial pour ce groupe de rockabilly que je vais voir pour la première fois sur scène.
Régis, la personne qui m'a contacté pour me parler d'eux (merci Régis), a aiguisé ma curiosité et mon intérêt. En effet, leur planète est composée de rock pur, de rockabilly revisité, de belles mécaniques et je vais voir leur bonheur de jouer ensemble et leur incroyable punch plus tard, sur la scène mythique du New Morning pour la soirée Rockers Kukture French Rockabilly #7.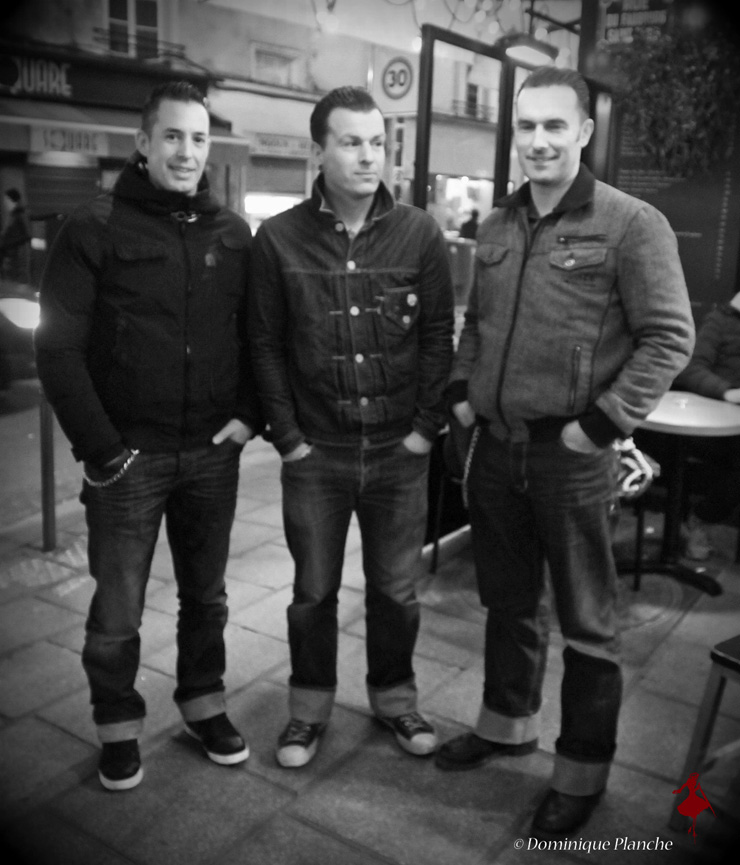 Leurs morceaux sont peuplés de pin-up, de voitures américaines et de soucoupes volantes.
En remportant le tremplin des Jeunes Charrues du Léon en avril, le groupe a franchi une autre dimension et fait atterrir leur soucoupe dans les plaines carhaisiennes lors des Vieilles Charrues 2011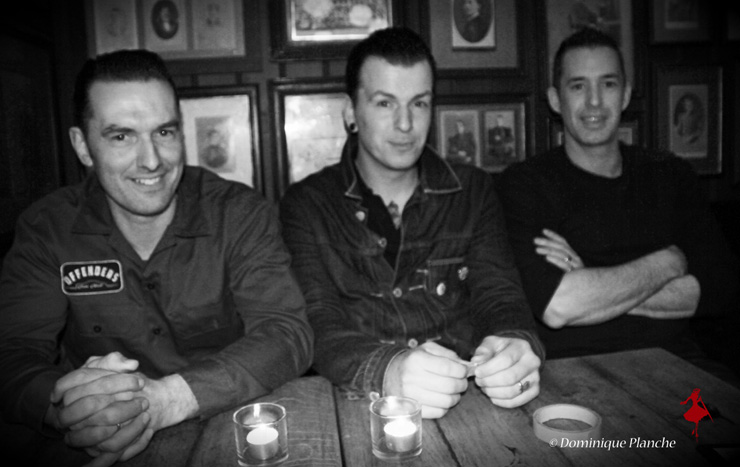 LA TEAM
Jean Baptiste Mayol dit JB  le batteur
Guillaume Plassart dit Gui contrebasse et vocal principal
Jean Marie Hyrien dit Jim guitare et vocal
THE CRASHMEN & LES VIEILLES CHARRUES 2011
The Crashmen a remporté le Tremplin Pays de Morlaix. Formé en 2005, le groupe a fixé son line-up depuis 2008, ce qui leur a permis de sortir un EP en 2009. Cette formation (en 2011) est composée de 2 guitares, d'une batterie et d'une contrebasse, pour un son rock'n'roll tendance garage, avec un univers scénique proche de la science-fiction. Après avoir fait leurs armes dans les bars de la région, le combo a foulé des scènes de plus grande importance (festival Panorama, festival de Kergrist), et quelques lieux symboliques comme le Mondo Bizarro en 2010. Leur passage sur la scène des Jeunes Charrues a largement confirmé une incroyable présence scénique, avec un visuel très abouti. Et un son fifties trituré à la sauce garage, qui donne des compos particulièrement bien arrangées. By Yann
LEURS ALBUMS PRÉFÉRÉS
OÙ ACHETER LE CD THE CRASHMEN « WE CAME IN PEACE » ?
JB, Gui and Jim the fifties look, like American cars, pinups, but especially the Rockabilly Rock N Roll.
Arriving by car from Britain to play at the New Morning, invited by Tony Marlow JB, Jim and Gui will answer my questions.
I chose a club not far from the bar to be warm and have a drink. The three boys are: impeccable hairstyle, jackets everything right and rolled up jeans. Their look is chic and they are cut like athletes:-) The mixture is great for rockabilly band that I will see for the first time on stage.
Regis, the person who contacted me to tell me about them (thank you Regis) has sharpened my curiosity and interest. Indeed, their planet is made of pure rock, rockabilly revisited, beautiful machines and I'll see their joy of playing together and their incredible punch later on the legendary scene of New Morning for the evening Rockers Kukture French Rockabilly # 7 .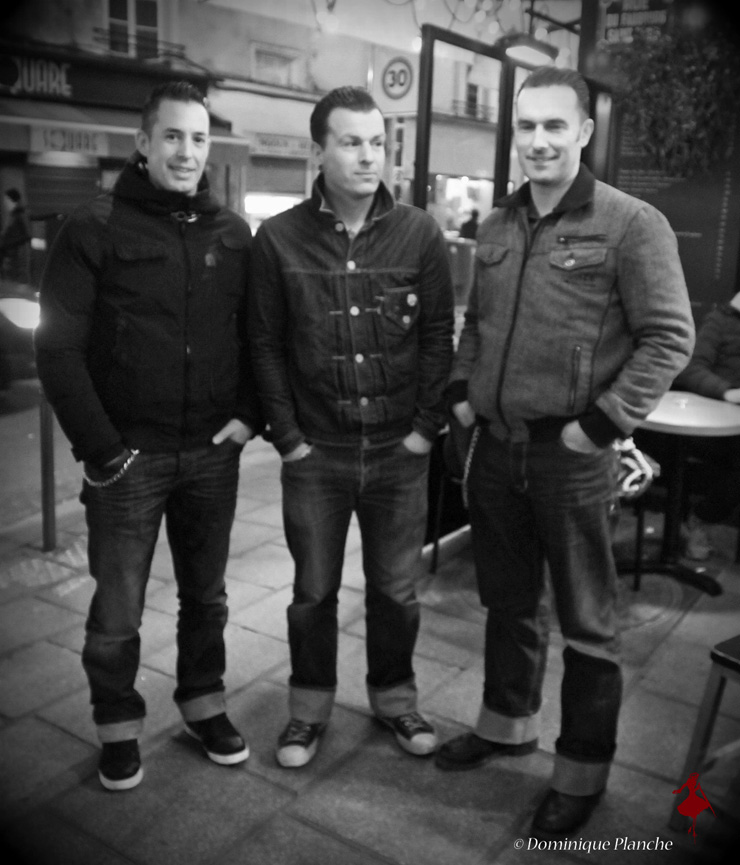 Their songs are full of pin-up, American cars and flying saucers.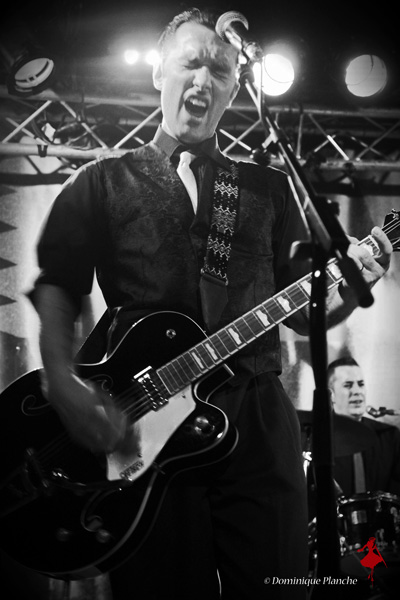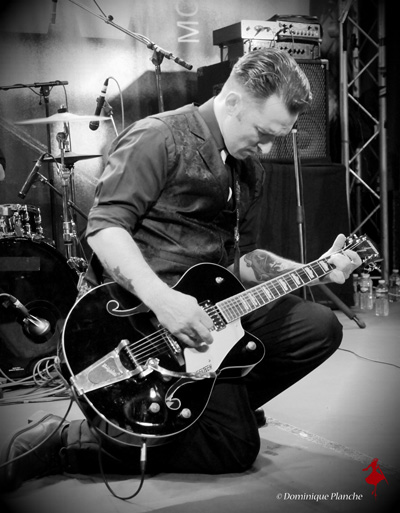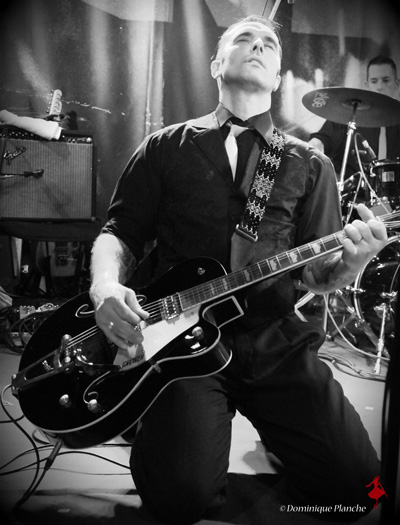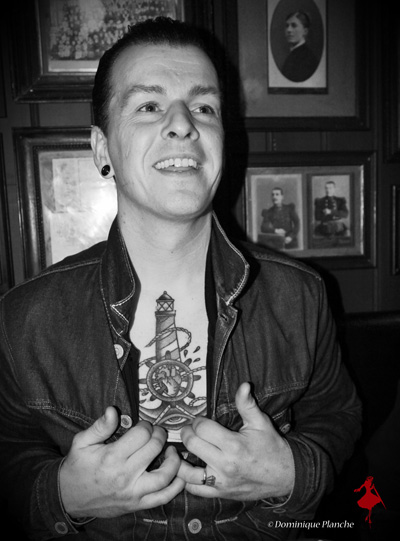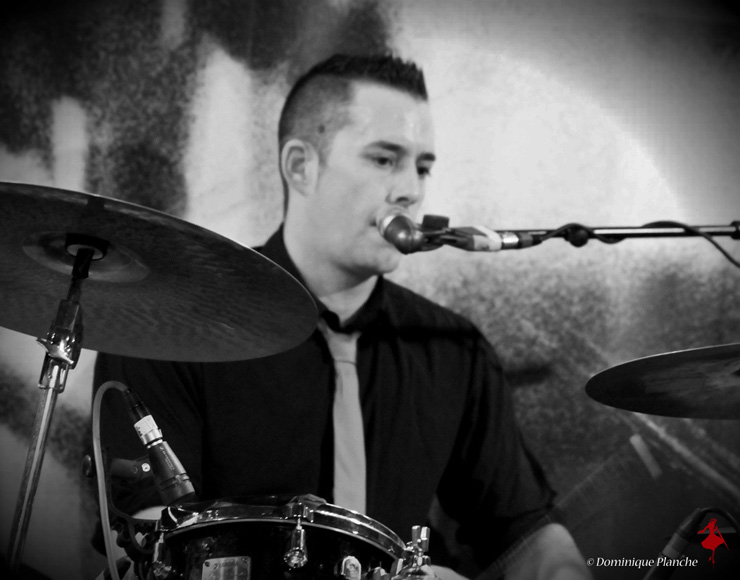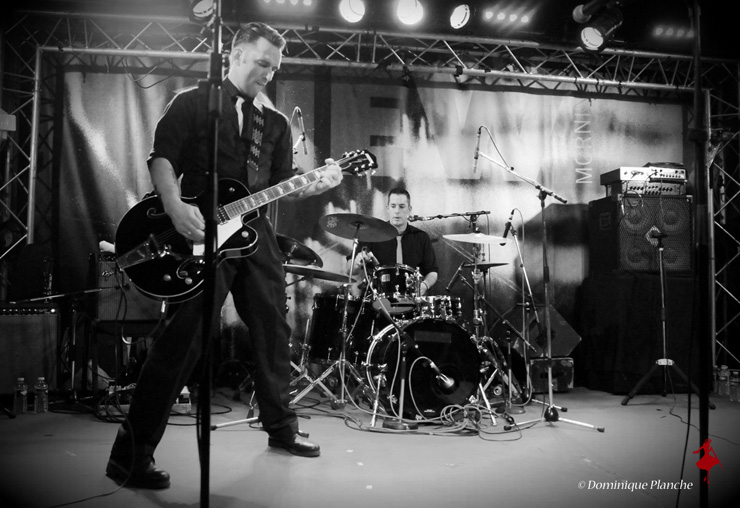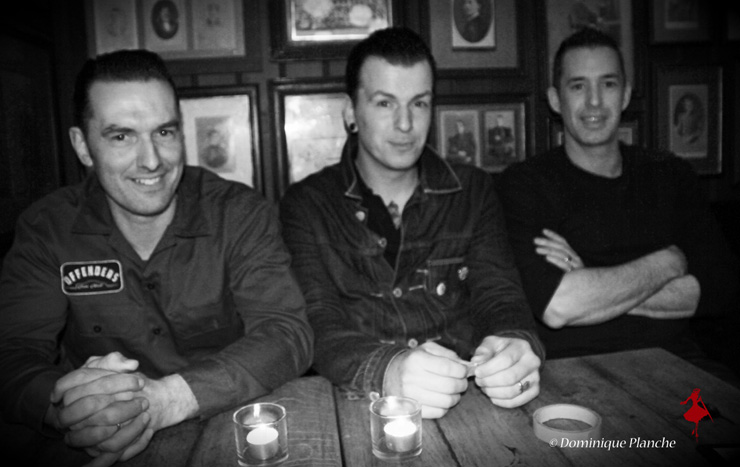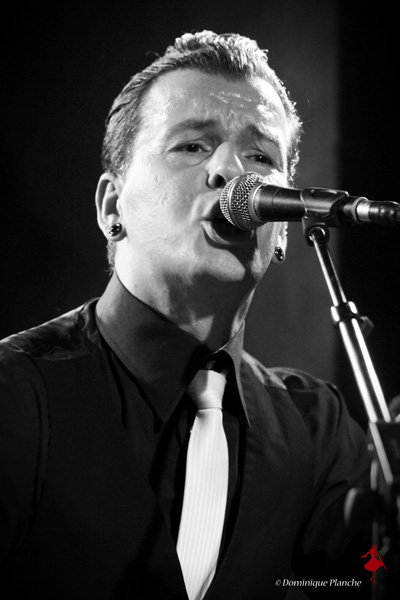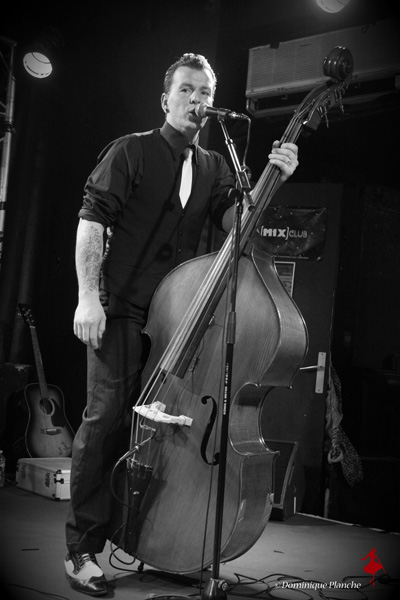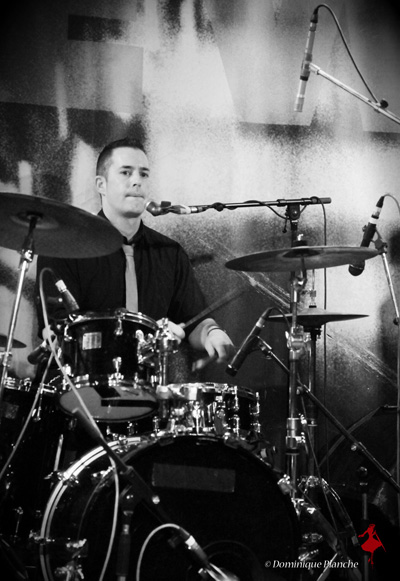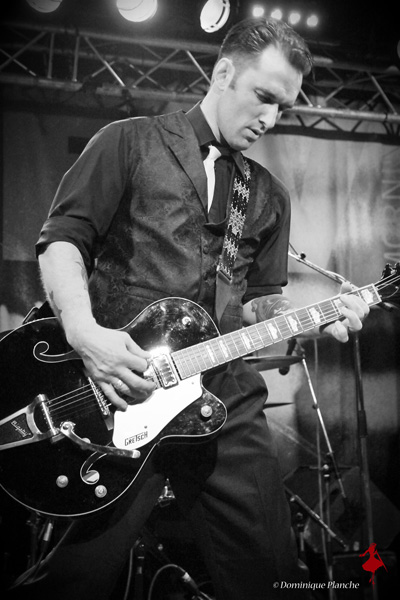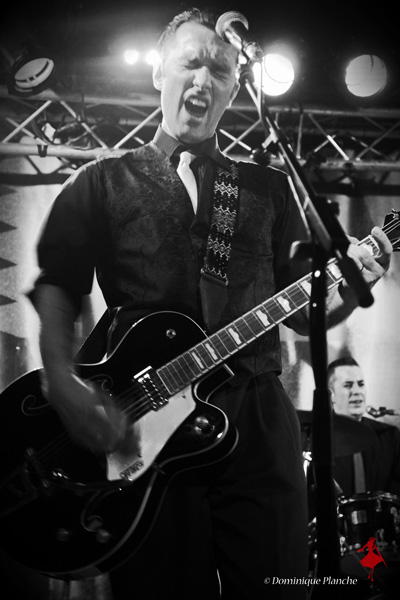 By winning the springboard Youth Ploughs Leon in April, the group has taken another dimension and makes their saucer land in the plains during carhaisiennes Tour 2011
THE TEAM
Jean Baptiste Mayol said JB drummer
Guillaume Plassart said Gui bass and lead vocal
Jean Marie Hyrien said Jim guitar and vocal
THE OLD CRASHMEN & CHARRUES 2011
The Crashmen won the Springboard Morlaix. Formed in 2005, the group has set its line-up since 2008, which allowed them to release an EP in 2009. This training (2011) is composed of two guitars, drums and bass, for a trend his garage rock'n'roll, with a stage universe close to science fiction. After their weapons in bars in the area, the combo has trodden scenes of greatest importance (Panorama festival Kergrist festival), and some symbolic places such as Mondo Bizarro in 2010. Their passage on the scene of Young Ploughs largely confirmed an incredible stage presence, with a very accomplished visual. And her fifties triturated garage sauce, which gives compos particularly well arranged. by Yann
THEIR FAVORITE ALBUMS
JB: AC / DC Highway to Hell
Jim: Elvis, Sun Records
Gui: Motörhead Ace of Spades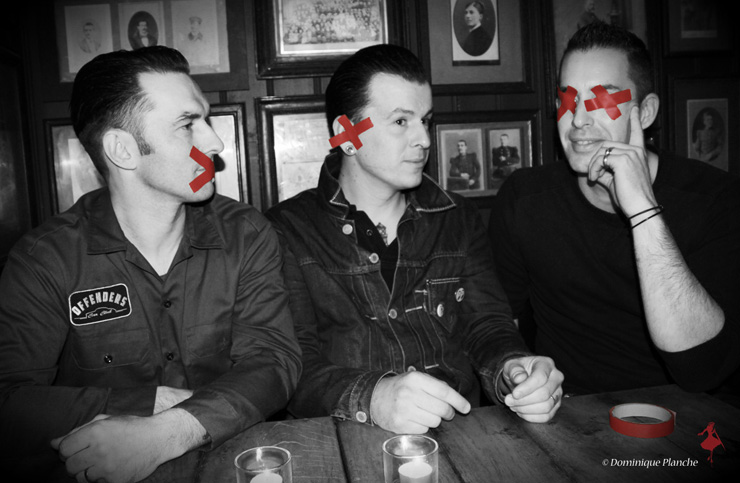 OÙ ACHETER LE CD THE CRASHMEN « WE CAME IN PEACE » ?